Samsung T1 250GB Benchmarks & Review
Samsung T1 Portable 250GB USB 3.0 External SSD (MU-PS250B/AM)  Quick Benchmark & Review, available for purchase on amazon. Samsung the manufacturer of the T1 Portable 250GB USB3.0 Flash Drive has information available online click here, and we won't be re-writing the basic specifications, warranty, etc…
Anvil Storage Utilities SSD Benchmark Rating: 1,565
This drive sure can read, even 4K READ @ 5,822 IOPs & 22MB/s.   The write performance leaves me wanting more, but 100MB/s is fine for anyone moving data over their 1Gig network to this mobile drive.
*Note* Alignment "NOT OK" warning in bottom right.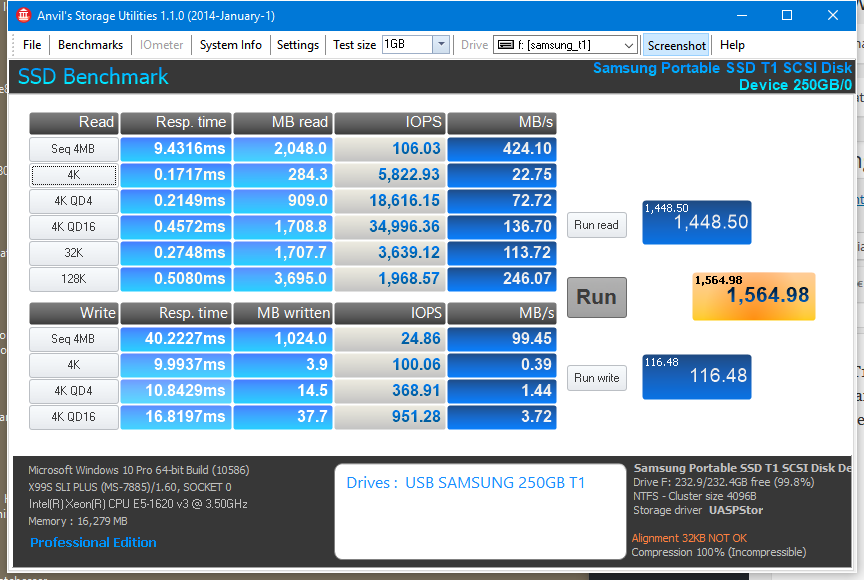 And here's after an "Alignment" in the MiniPart Tool in Windows10.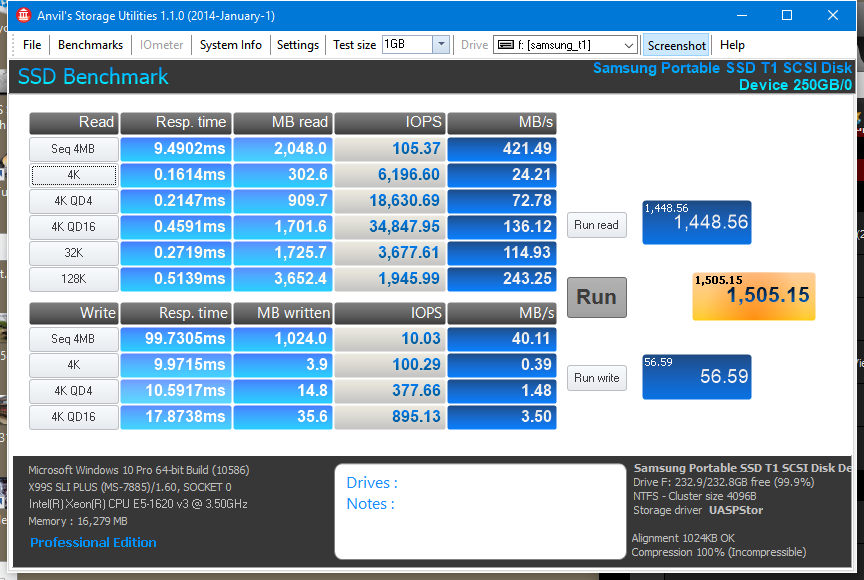 Something happened to write performance here after the alignment and format, and we decided to run the test again, sadly the performance didn't change. We went back into MiniTool Partition and tried to "align" again but it claims we're already aligned, and nothing is to be done.  We then formatted with a 32KB allocation unit size in windows format tool, and re-ran Anvil test however anvil reported alignment "OK" this time.  Write performance jumped back up to 100MB/s and IOPs jumped back up to 20.  Reads vary so little it doesn't seem to matter, but gaining 100% on the writes is worth it to make sure you have it formatted and aligned properly.
Here's the ANVIL Benchmark of the USB drive after we formatted it in windows with 32KB allocation unit, back to the original results practically except alignment is "OK".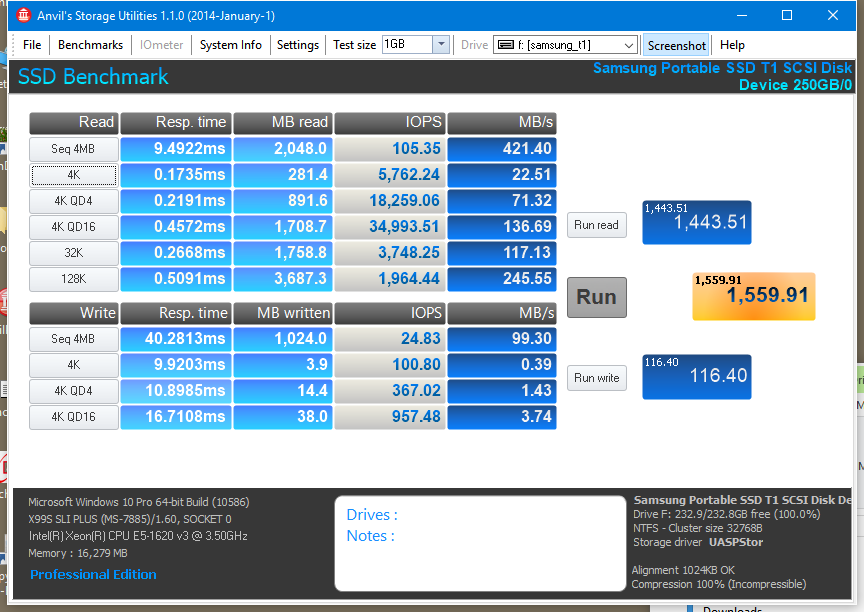 Here we use the popular ATTO Disk Benchmark tool to see what kind of performance we can get out of the Samsung T1 250GB portable USB3.0 SSD/Flash drive.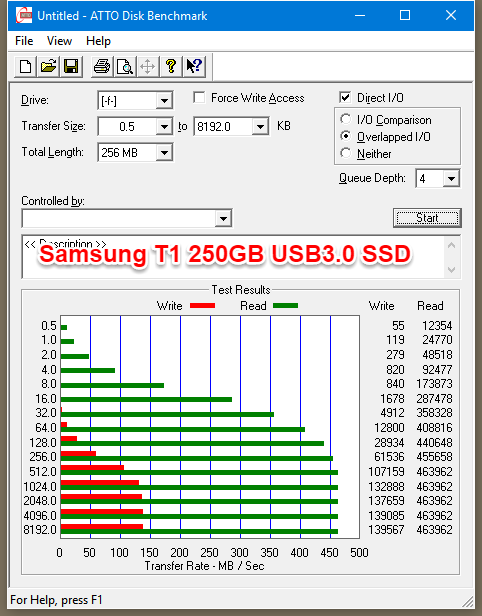 Not unlike Anvil, the reads do hit 450MB/s but the writes also reach >125MB/s on Anvil we only saw them reaching 99MB/s.
Sequential reads are amazing, writes leave room for great improvement, and write IOPs are terrible. Sandisk USB sticks I have get better write IOPs than this "USB SSD"!
For $99 for 250GB USB3.0 SSD (Dec. 2015) you are getting something that can "unload" data onto another system rather fast (450MB/s), but if you plan to move data to this drive often remember 100MB/s is the max write we could pull.