Looking for a cheap way to add performance and capacity to our home all in one file server and virtualization box we turned to finding enterprise ssd on ebay.  We picked up 4 of the 240GB Micron M500DC SSD from ebay new in the box for less than $300 total.
Raw capacity: 960GB
Utilization: Napp-IT/Omni-OS ZFS file-server VM in ESXi 6.0
Usable capacity: 430gb (if we use 100%)
The drives were installed in an Icy Dock 8x.25″ hot swap cage that fits within 1×5.25″ bay in our tower all in one system.
The all in one server is running Napp-IT/OmniOS as the file server and the 8x.25″ Icy Dock is connected via a M1015 HBA flashed to LSI IT firmware which is passed-through in ESXi to the Napp-IT/OmniOS VM acting as a virtual storage appliance.
We then created a new pool in Napp-IT with two mirrored VDEVs that utilizes all 4 of the M500DC SSD.
Crystal Disk Mark results of the Micron M500DC Solid State Drives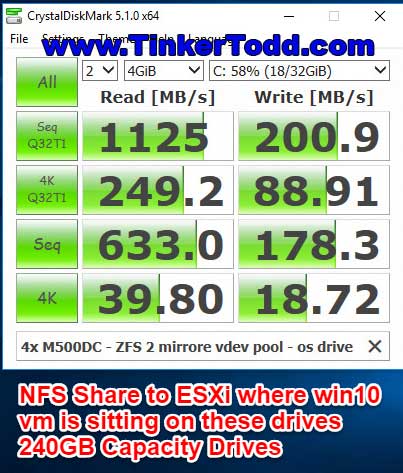 Anvil Storage Utilities Benchmark of the Micron M500DC SSD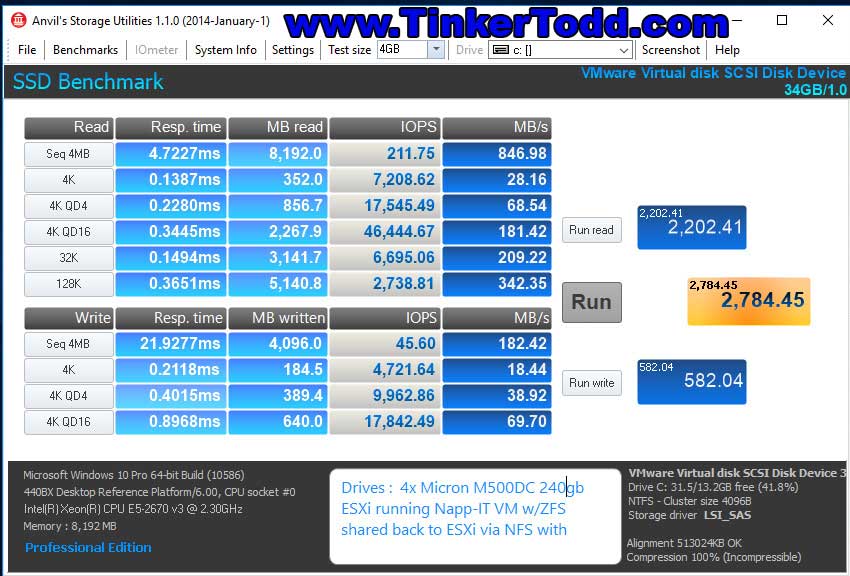 For less than $300 with mirrored drives and utilizing ZFS (sync=disabled) the performance is not bad at all.
Up next we will be testing them for longer periods of time so that we reach steady-state and see what performance does then.
UPDATE – 4 Hours Later –
1 drive is failing with a Raw_Read_Error_Rate # of 231928233984 via SmartInfo. The failing drive is coming in at 81*C the other 3 Micron M500DC drives are registering 60-73*C while other drives in the same Icy Dock cage are running at 20-23*C.
Unfortunately we will not be able to continue testing and analyzing these drives due to failure.