Silverstone DS380 / DS380B IR Images
Infrared images of the Silverstone DS380B mITX computer case.
This case is made for a mITX motherboard and can handle 8 Hot Swap 3.5″ Hard drives as well as 4 2.5″ SSD mounted on-top each other in the rear (top right of picture near 126, green lines = SSD).
These pictures were taken after 24 hours of heat-soak on 8 idle 3.5″ Western Digital RE 2TB Enterprise hard drives, and an 8 core ATOM SOC SuperMicro setup with 32GB RAM.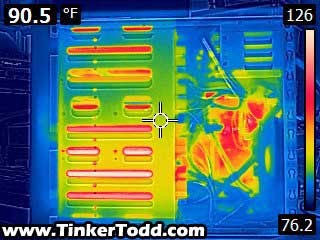 As you can see in the above image and the below image the heat is focused on the bottom right half of the drives and cage.
If you were to take and cut it like / the entire right side be it front, side or rear are all the hottest parts of the case.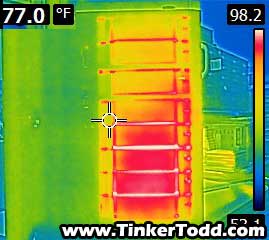 One solution to the heat problem I'm working on is attempting to fit a fan on the opposite side of the original fans to pull-air out directly across the drives and not down.
I will attempt an internal ultra-thin fan install, and if that doesn't work I'll mount it externally with a cover.